Northern Europe & British Isles Cruise: Southampton To Quebec City
on Silver Shadow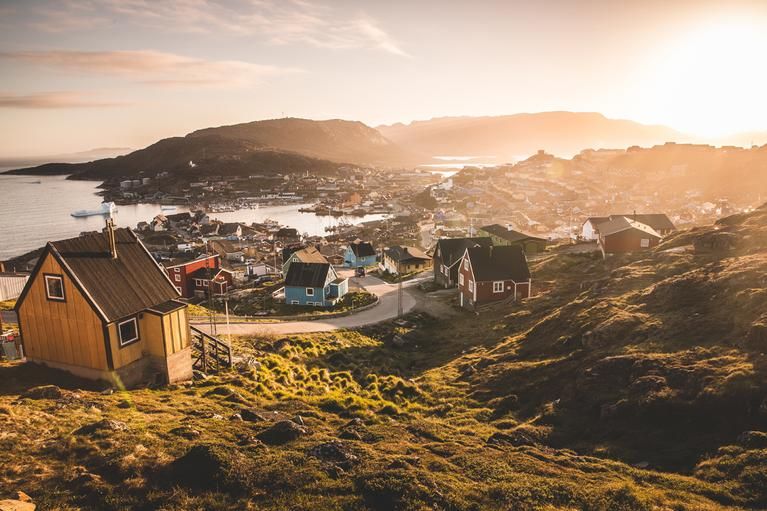 If it is diverse destinations, oodles of maritime history and charisma and charm in spades that you want, then this is the cruise for you! We have packed in an extensive vision of the north on this voyage, from Edinburgh's glorious Royal Mile – where you'll overnight, to days at sea, Greenland's majestic Prince Christian Sound and endless wandering in Newfoundland's miles of coastline. Starting in Southampton and ending in Quebec, this is an incredible journey.

Silversea's small luxury ships are designed for those who delight in the thrill of discovery while indulging mind and body in the most lavish surroundings imaginable. All accommodations are spacious, ocean-view suites that include butler service, and most include private verandas. Silversea voyages and cruise expeditions sail to over 900 destinations on all seven continents, more than any other cruise line.
Our ships range in size from 50 to 304 suites to ensure each of our guests fi
...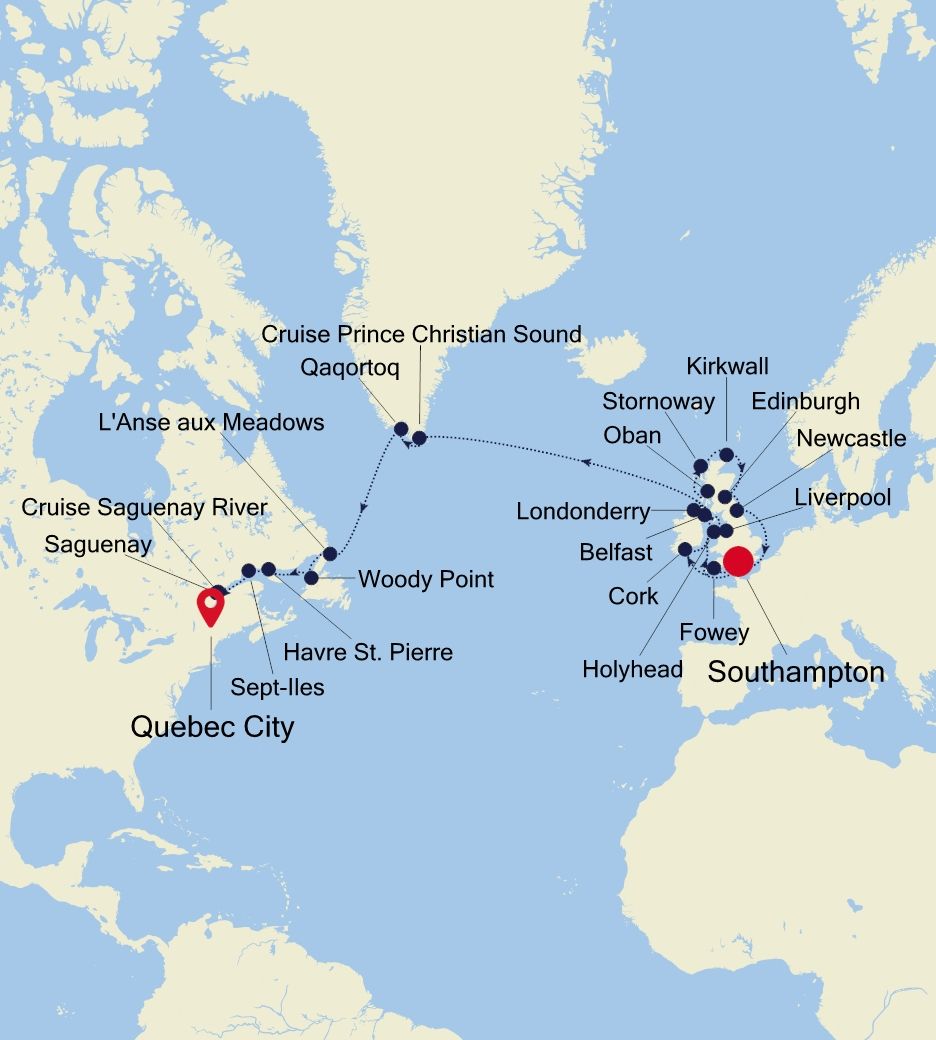 | Day | Destination | Arrive | Depart |
| --- | --- | --- | --- |
| 1 | Southampton, England | | 7:00 pm |
| 2 | Fowey, Cornwall | 8:00 am | 5:00 pm |
| 3 | Cork | 8:00 am | 6:00 pm |
| 4 | Holyhead, Wales | 8:00 am | 6:00 pm |
| 5 | Londonderry, N. Ireland | 8:00 am | 8:00 pm |
| 6 | Oban, Scotland | 8:00 am | 6:00 pm |
| 7 | Stornoway (Isle Of Lewis) | 8:00 am | 6:00 pm |
| 8 | Invergordon, Scotland | 8:00 am | 6:00 pm |
| 9 | Leith (Edinburgh), Scotland | 11:00 am | |
| 10 | Leith (Edinburgh), Scotland | | 9:00 pm |
| 11 | Newcastle, England | 8:00 am | 6:00 pm |
| 12 | Day at sea | | |
| 13 | Southampton, England | 7:00 am | |
| 13 | Southampton, England | | 7:00 am |
| 14 | Day at sea | | |
| 15 | Liverpool | 6:00 am | 8:00 am |
| 16 | Belfast, Northern Ireland | 7:00 am | 8:00 am |
| 17 | Day at sea | | |
| 18 | Day at sea | | |
| 19 | Day at sea | | |
| 20 | Cruise Prince Christian Sound | noon | noon |
| 21 | Qaqortoq (Julianehåb) | 11:00 am | 2:00 pm |
| 22 | Day at sea | | |
| 23 | L'Anse aux Meadows | 8:15 am | 9:00 am |
| 24 | Day at sea | | |
| 24 | Day at sea | 1:00 am | |
| 25 | Quebec City | 4:00 pm | |
| 26 | Quebec City | | |